We interviewed Jeff Mingay - golf course designer and builder- who has also written for Golf Week, LINKS and SCORE Golf (Canada's national golf magazine). He has also recently joined Rod Whitman Golf Course Design, Ltd and is helping in the construction of Blackhawk; a new daily fee course outside of Edmonton, Alberta. Jeff has also has researched the work of Stanley Thompson thoroughly over the past few years and has gained a unique perspective on this Canadian legend. Jeff is also currently working on two books, one "One Hundred Years of Golf, A History of Essex Golf & Country Club: 1902-2002" is due out in fall 2002 the other "The Art of Classic Golf Course Restoration" is due out from Sleeping Bear Press in July 2003.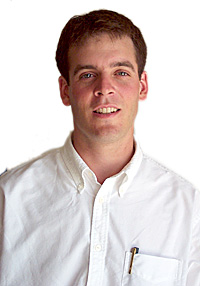 Golf TI: WHAT ROLE DID THE RAILWAY PLAY IN STANLEY THOMPSON'S REMARKABLE CAREER AS A GOLF COURSE ARCHITECT?
Jeff Mingay: Before the Canadian National Railway hired Thompson to lay out a new course at the Jasper Park Lodge in the early 1920s, he had only designed a few courses, mainly in and around Toronto – none of which had really attracted international attention.
Canadian National provided Thompson with the essential ingredients: a healthy budget and a fantastic property. Still today, Jasper's undoubtedly one of the most spectacular properties in the world dedicated to golf. And Thompson made the most of the opportunity. In fact, the course was arguably the first in North America west of the Mississippi River to favourably compare to the world's best.
As I understand it, Jasper immediately attracted the attention of the international media – partly because Canadian National promoted it as an international golf destination, but also because the course is just that stunning. The attention it received indirectly translated into some good advertising for Thompson and his golf course design business.
A year or so later, presumably somewhat envious of the success of the new Jasper, the Canadian Pacific Railway decided that it too needed a Thompson designed course at the Banff Springs Hotel.
Thompson's course at Banff opened in 1927, and is reputed to have been the first course in the world to cost more than $1 million to build. I don't think that claim has ever been substantiated, but nonetheless, Banff is a fantastic course in yet another of golf's great settings.
It also received a lot of media attention when it opened. Even more than Jasper, I think. And, of course, Canadian Pacific promoted Banff as an international golf destination too. Which, again, was a positive for Thompson's business.
So, I'd say it was the success of Jasper and Banff that more or less propelled Thompson into the upper echelon of international golf course designers during the late 1920s. These two courses provided him his first wide spread notoriety.
And Toronto's St. George's was also a Canadian National project as well, completed in 1929. Canadian National owned and operated the Royal York Hotel in downtown Toronto at the time and they built the golf course for guests of the hotel. It was actually called Royal York Golf Course originally.
GTI: JASPER PARK, BANFF SPRINGS, ST. GEORGE'S, CAPILANO AND CAPE BRETON HIGHLANDS ARE GENERALLY CONSIDERED TO BE THOMPSON'S FIVE BEST COURSES. DO YOU HAVE A FAVOURITE? IF SO, WHY?
JM: I agree those are his best five, but I'm not sure I can pick a favourite. That's a tough question.
I guess I'd narrow it down to Highlands Links, Jasper and St. George's. Then, between those three, I'll admit I tend to lean toward Highlands Links. But, again, I have to say I like them all for different reasons. They're all so unique – which is what makes them all so good in own right.
What's most interesting is that all five of these courses benefited from the same factors in their development.
First of all, they were all laid-out on interesting natural properties for golf. And not one returns to the clubhouse after nine holes. This is particularly notable. Today, most architects have their hands tied because developers insist that the ninth hole return to the clubhouse. In order to achieve this, one or two excellent natural holes usually have to be sacrificed. Because none of Thompson's best courses returns to the clubhouse after nine, we must assume that he wasn't restricted in this way. The developers must have permitted him to route the best courses possible in each case, and the results speak for themselves.
Another thing is that I'm pretty sure none of these developments faced any real serious budget-related constraints. As we've already mentioned, Jasper, Banff and St. George's were financed by the wealthy railway companies that were focused on building top-notch courses to attract people to their respective hotels and resorts; Capilano was financed by British Pacific Properties: another wealthy company committed to building a world-class golf course that would assist with selling homes in the ritzy residential development they were putting together in North Vancouver; and Highlands Links was financed by the Canadian federal government as part of the development of Cape Breton Highlands National Park during the late 1930s. The government has deeper pockets than the three aforementioned companies combined!
These are the same factors that conspire in the making of great golf courses today: good land, a healthy budget, and giving the architect a freehand to do his work.
GTI: JASPER PARK AND BANFF SPRINGS ARE LOCATED 3 HOURS FROM EACH OTHER. IS IT FAIR TO SAY THAT THESE ARE THE TWO BEST MOUNTAIN COURSES IN THE WORLD?
JM: Well, I've been studying golf courses pretty intensely over the last decade and more. So, if there were any other courses in the mountains that compared to Jasper and Banff, I'd probably know about them. None come immediately to mind, so, yes, I think it's fair to say that Jasper and Banff are the best of the so-called "mountain courses."
More than that, I think it's fair to say that they compare favourably with many of the best courses in the world that aren't in the mountains!
GTI: THOMPSON EMPLOYED SUCH FAMOUS ARCHITECTS AS ROBERT TRENT JONES AND GEOFFREY CORNISH. WHAT ARE SOME OF THE INFLUENCES HE HAD ON GOLF DESIGN?
JM: A number of guys who later became well-known golf course designers themselves originally worked for Thompson – not only Jones and Cornish, but also Howard Watson and Robbie Robinson too.
You don't hear golf design enthusiasts discussing Cornish, Watson, Robinson, or even Jones courses the way they talk about Thompson's courses though. Their work rarely, if ever, exhibits the same flair as Thompson's. Nor does it inspire the same type of golf.
Perhaps they didn't get the really good natural properties, or the big budgets like Thompson did? I don't know. Or maybe Thompson was just a bad teacher! Whatever it might have been, my feeling is the students just weren't as artistically inclined as the teacher. Nor did they understand golf strategies as well as Thompson.
In most cases, Cornish, Watson and Robinson – even Jones courses just don't look as good or play as interestingly as Thompson's. That's a fact.
Thompson practiced a strategic style of design. His courses were wide enough to allow less skilled players to enjoy a round, but his greens were designed to set-up preferred angles of approach that challenge better golfers at the same time. This ideal balance is what most golf architects strive to achieve.
Jones deviated from the strategic school. His most famous courses are more penal in nature – tight off the tee, with elevated, tightly bunkered greens, or greens guarded by water. A typical Jones course is generally difficult for high-handicappers, and also one-dimensional for good players. They're comparatively less interesting.
Jones's fame has more to do with the media attention he attracted following his redesigns of US Open venues during the 1950s than any actual enduring qualities his own works might possess. When he redesigned Oakland Hills for the 1951 US Open, it was the first time ever that a golf architect was engaged to modify a course to counter the abilities of the world's best players. That was exciting to people at the time.
But today, with opportunity to compare the various schools of golf course design that have been practiced over the past century, we've come to learn that the strategic courses of the 1920s and '30s are most appealing to the majority of golfers – Thompson courses included!
GTI: IT WOULD BE AMISS TO DISCUSS THOMPSON WITHOUT DISCUSSING HIS PAR THREES. IS IT TRUE THAT HE DESIGNED HIS COURSES AROUND THE PAR THREES? CAN YOU TELL US SOME OF YOUR FAVOURITES?
JM: In studying Thompson's work, it's pretty obvious that he routed his courses around ideal natural sites for par 3s. Nearly all of his courses possess consistently natural and exciting par 3s.
My theory is that he learned this methodology while observing Harry Colt's work at Toronto Golf Club in 1912 and, two years later, at Hamilton Golf & Country Club. Colt was a pioneer in the field of golf course design. As I understand it, he too routed his courses around the natural sites for par 3s.
Thompson was a 17 year old caddie at Toronto when Colt laid-out his course there. And his older brother, Nicol Thompson, was the professional at Hamilton in 1914. So, I'm sure young Stanley was paying attention to the development of these courses – taking mental notes!
In his 1926 book The Links, Robert Hunter refers to par 3 holes as "the acme of golf." He suggested that a series of one-shot holes of varying length and character provides more excitement than any other types of holes. It seems Thompson shared this opinion. Many of his courses feature five par 3s, and they almost always play different lengths, from different angles, and possess unique character.
On a typical Thompson layout you'll usually find one par 3 that's 150 yards or shorter, three that range between 165 and 200 yards long – all with completely different character and shot requirements – and always one that plays 230 yards or more. This kind of variety is ideal.
I don't think I'd surprise you with my favourites of Thompson's par 3s. His most famous one-shot holes are famous for good reason – like the Devil's Cauldron at Banff. Nothing can prepare you to see this hole for the first time. I'd seen many photos and read about it, and thought I knew it, but when I stepped on the tee there for the first time, it blew me away! In concept, it's a simple hole – a medium length drop shot par 3, with a green pitch from back to front surrounded by bunkers. But the view from the tee is so awesome – it changes the entire complexion of the hole!
Jasper's Cleopatra – the ninth – is similar in beauty. The view from the tee down to the green is spectacular – Pyramid Mountain, in the distance, lines up perfectly with your sight line from the tee to the centre of the green. And the playing character of the hole is even better than the view. I don't think many contemporary architects would have the guts to build this hole today – a 235 yard par 3 played dramatically downhill to a narrow green with steep drop offs and sand on three sides! In my opinion, there aren't enough of these types of holes in golf today!
I'm a big fan of Thompson's long par 3s in general. I really like the 220 yard 16th at Capilano and the 235 yard 8th at St. George's, with its green half hidden behind a hillside on the left. It's a particularly unique hole. And I hear the 8th at Uplands in Toronto is something to see. I haven't been there yet.
But my absolute favourite Thompson par 3 is probably the short fifteenth at Jasper, called "The Bad Baby." It's only 138 yards long from the back of the tee, but the green is one of the tiniest I know of. It sits on a natural diagonal ridge with steep drop offs on all sides, and a bunker front left and another back right. I think it's Canada's "2 or 20 hole". If you hit the small green, you're inevitably left with a relatively short putt for two. But miss it, and you might make a 20!
GTI: HOW MUCH HAS PLAYING EQUIPMENT TECHNOLOGY CHANGED THOMPSONS DESIGNS?
JM: The ball is going so much further today than in Thompson's era that golfers do approach his courses differently than their predecessors did in the 1920s and '30s – and even the '80s!
His courses have probably become less challenging for better golfers, but not necessarily less interesting, I don't think. The inherent variety in the length of holes and the type of shots required, and the challenge in pitching, chipping and putting that his greens provide for keep his courses interesting, regardless of how far guys are driving the ball.
Actually, I think Thompson courses might be even more interesting for average golfers today. The average male golfer today is probably driving the ball the same distance as the best players of Thompson's era. So the strategies that Thompson designed for the better players of the 1920s and '30s, and the carrying bunkers he placed for them, are probably more relevant to a larger number of golfers today than they were originally.
With that in mind, I think we have to be very careful when considering changes to Thompson's original designs – particularly in the quest for additional yardage, and also the relocation of fairway bunkers. So many clubs with older courses are anxious to add yardage as a response to improvements in club and ball technologies, when in fact 6,500 to 6,700 total yards is still plenty for the average male club member. Similarly, the carrying bunker 200 yards off the tee is still a well-placed carrying hazard for guys who drive it 230-240 yards.
In my opinion, fiddling with an original Thompson design isn't something to be taken lightly. And either is the distance issue. If the USGA and the R&A don't do something soon to strictly limit the distance to be gotten by the ball, the game is inevitably going to suffer. Not only will a bunch of great 6,660 yard golf courses become less interesting drive-and-pitch affairs, but the cost to play the game will rise significantly. It's a simple equation: longer courses require more land to be purchased, and more money to build and to subsequently maintain, which will inevitably result in today's astronomical green fees going even higher!
Logic tells me most golfers would rather have more affordable courses to play then an even longer golf ball.
GTI: HAVE THE REDESIGNS AND RENOVATIONS ON THOMPSON'S COURSES GONE WELL?
JM: Unfortunately, a lot of Thompson's original work has been butchered over the years, for all the wrong reasons. But things have changed in recent years. Nowadays more clubs are rightly investigating the potential for restoring their Thompson layouts.
Much of the most recent work I've seen on Thompson courses has focused on bunker reconstruction. Of course, a good Thompson restoration wouldn't be complete without refashioning the bunkers, and also re-installing any original bunkers that may have been filled in over the years. But the true genius of Thompson's work is in the greens, and the strategies that they set-up.
Thompson often laid-out odd shaped putting surfaces that provided for challenging hole locations on the outer edges of the greens. These types of pin positions had to be approached from favourable angles in the fairway or else it was impossible to get the ball near the hole. It was important to use your head on Thompson course, like in billiards – to play the shot at hand with the next in mind, as per the day's hole location.
However, over the years, green surfaces have a tendency to shrink, and the result is always the loss of a course's most strategic hole locations. I've visited many Thompson layouts where it's plainly obvious that the greens have shrunken significantly, and still I'm yet to see a comprehensive green surface reclamation project undertaken on a Thompson course.
Thompson drew inspiration from The Old Course at St. Andrews. His courses were big and wide and multi-dimensional. The shrunken greens and the narrow fairways lined with interfering trees that we so often find on Thompson layouts today are in direct conflict with his original design intentions. They're the product of evolution. Narrow tree-lined holes, featuring 15 yard wide fairways and tiny, round greens weren't Thompson's thing.
Successful restorations focus on green surface reclamation and related adjustment to fairway patterns. And tree removal of course. Bunker reconstruction is a secondary element.
Still, more than a few clubs I know of have spent an extraordinary amount of money to rebuild their bunkers in that famous "Thompson style". The aesthetic beauty of the course might have been improved, but the original Thompson playing character and strategies haven't been restored. And isn't that the intention?
There's been a lot of excellent restorative-based work done on classic layouts in the United States in recent years. But we're yet to see a comprehensive restoration of a Thompson course completed here in Canada.
GTI: CAPE BRETON HIGHLANDS WAS RECENTLY RANKED THE BEST COURSE IN CANADA (by Score Golf magazine), PERHAPS A LONG OVERDUE RECOGNITION. CAN YOU TELL US WHY YOU THINK THE COURSE IS SPECIAL, AND IN PARTICULAR WHAT ARE SOME OF ITS CHARACTERISTICS?
JM: I recall Score Golf magazine took some heat in 2000 when they announced Highlands Links had dethroned the National Golf Club of Canada as the number one-ranked course in the country. I defended their choice then, and I still do today.
I think most golfers who argue that Highlands Links shouldn't be ranked number one either haven't played there, or played the course in the spring when turf conditions aren't the best. Greenkeeping at Cape Breton is very challenging. It takes a while for the course to recover from the effects of winter. And still there are always isolated problems that persist throughout the golf season each year. Tom Forsythe and his staff do an excellent job under the circumstances.
In general, golfers are too focused on turf conditions. If the turf's not in good shape, they tend to overlook otherwise interesting golf courses. And Highlands Links is replete with interesting golf holes – one after another.
What Stanley Thompson accomplished at Highlands Links during the late 1930s is nothing short of genius. There is such a tremendous variety of holes there – which is the result of an brilliant routing that takes full advantage of the natural attributes of the property.
The final product we play today suggests Thompson had no preconceived notions. He simply allowed the native landscape to dictate where golf should be played. I mean, there's back-to-back par 5s at the 6th and 7th holes, followed by consecutive par 4s under 330 yards at eight and nine. Later, there's back-to-back par 5s again, at the 15th and 16th holes. But these holes are so unique to one another and so interesting to play that it never crosses your mind that you just played two par 5s in a row, or two short par 4s back to back.
It's actually amazing how we end up with so many 7,000 yard par 72 golf courses these days. The reality of it is, we'd have more courses like Highlands Links if contemporary architects practiced what they preached in regard to utilizing natural landscapes instead of forcing preconceived notions into the ground in order to arrive at 7,000 total yards and a total par of 72 – and to get the 9th hole back to the clubhouse!
The green complexes at Highlands Links are extremely varied and interesting as well. Like all of the world's best courses, Highlands Links starts with a solid routing for the holes and is enhanced by an interesting and varied set of greens.
And, of course, this is not to mention the setting. Highlands Links is so remote, out there on the northeast tip of Cape Breton Island in the Highlands, on the Atlantic coast, that it's unlike any other North American golf experience. It's undoubtedly one of the most unique and memorable places for golf in the entire world, but also one of the most unpretentious.
GTI: THREE OF THOMPSON'S BEST FIVE COURSES ARE PUBLIC, CAN YOU THINK OF ANOTHER LEGENDARY GOLF COURSE ARCHITECT WITH SUCH A GREAT BATTING AVERAGE FOR PUBLIC GOLF?
JM: Donald Ross has a pretty good "batting average" for public golf. You'll find a Ross-designed course opened to the public in a quite a few cities across the eastern United States, particularly in New England. But in all but a few cases, those Ross courses aren't going to be found very well preserved architecturally.
What's great about Jasper, and Banff, and Highlands Links is not only are they well preserved, they're very well taken of and, more important, comparatively inexpensive to play.
I mean, if you want to play Ross's Pinehurst No. 2, or Pebble Beach, you're looking at a $300US green fee or more! I don't know the exact cost to play Jasper, Banff or Highlands Links at present, but I do know it's much less expensive than that.
Considering the price of golf today, Jasper, Banff and Highlands Links all offer a world-class golf experience for a bargain price!
GTI: BANFF SPRINGS HAS BEEN CHANGED AROUND A LITTLE BIT AND RENOVATED PRETTY SIGNIFICANTLY, HOW GREAT IS THE STRETCH OF HOLES FROM 10 TO 15 (THE OLD CLOSING HOLES AND THE FORMER NUMBER ONE)?
JM: I don't know the details of all the changes to Banff over the years, but the worst would seem to be the re-numbering holes that took place about 10 years ago, when they added a new 9-hole course and a new clubhouse in what's basically the centre of the original Thompson course.
Nowadays, Thompson's original 5th hole plays as the first, and the par 5 fourth is the home hole. This sequence of holes just isn't as elegant as Thompson's original routing; the course just doesn't flow as well starting on number 5.
The tee shot at the original 1st hole was undoubtedly one of the greatest opening shots in all of golf. There you are on an elevated tee in the shadow of the majestic Banff Springs Hotel, high above an inviting fairway, with the raging Spray River below, and a breathtaking view of the Rocky Mountains right in front of you! It's an inspiring sight.
In an ideal world, Banff would return to the original sequence of holes. Not only to reclaim the experience of that opening tee shot, but also because of the closing four holes you mention.
If I recall correctly, it's on the 16th tee that you get your first glimpse of the hotel in the distance. It's almost surreal when you see it for the first time sitting up there on the side of that mountain. It gives you a feeling of "heading home" – just like at St. Andrews. In fact, Thompson's original "out and back" routing at Banff sort of mimics the routing The Old Course – you play nine holes out, and nine in; out and in, as it reads on every scorecard!
I love the green at the par 4 sixteenth. It's relatively narrow and triangular in shape with steep drop offs on all sides, and the Bow River tight on the right. It kind of reminds me of the 1st green at Pine Valley. The further back the hole is cut on the green, the more precise the approach must be.
The 17th is another of Thompson's really good long par 3, about 225 yards long. And the 18th, lying in the shadow of the hotel, is arguably the best hole on the course.
Thompson employed an "in your face" style of bunkering at Banff. He placed a large number of the 140 or so bunkers on the course in the direct line from tee to green rather than on the periphery of the holes. As a result, you can't help but notice the bunkers, and everyone, regardless of golfing ability, is forced to contend with at least a few throughout the course of a round.
At the eighteenth there are two clusters of bunkers, one on the left off the tee and another on the right closer to the green, that really force you to "tack" your way to the green.
Golf at Banff isn't played straight down the centre of the fairways. Almost every hole has a bunker to be played over or around.
GTI: JASPER PARK IS ONE OF OUR FAVOURITE PLACES TO PLAY GOLF. DOES THE SETTING OVERWHELM THE ARCHITECTURE? WHAT FEATURES STAND OUT FOR YOU?
JM: The setting at Jasper is awesome. But, for me, the architecture overwhelmed the setting. The course is that good in my opinion.
Like all of Thompson's best courses, Jasper's brilliance stems from the routing of the holes. He utilized the best natural features on that property perfectly. In fact, I don't think there's a weak hole at Jasper, and some of the best holes there are least talked about – like the opening three holes, the par 3 seventh, and the par 4 eleventh too.
GTI: CAN YOU TELL US A BIT ABOUT THE STANLEY THOMPSON SOCIETY? WHAT IS THE SOCIETY DOING THESE DAYS?
JM: The Stanley Thompson Society was established back in 1998 by a group of members of golf clubs across Canada with Thompson designed courses. The principle objective of the Society is to encourage the restoration and preservation of Thompson layouts.
I've done a lot of research and writing on Thompson in recent years. I've collected quite a bit of information about his design style and philosophies, and have recently talked with both Jim Barclay and Bill Newton about assisting the Society with building an archive of material to make available to clubs interested in researching the history of their Thompson courses with intent to restore them.
Jim Barclay is Thompson's biographer – author of The Toronto Terror. And Bill Newton is actually Thompson's great-nephew. His grandfather was Stanley's brother, Matt. They're both very knowledge men, very much involved with the Thompson Society.
As of right now, I don't have an official role, but I plan to assist the Society's cause. It's a worthy cause, and they founding members have done a very good job in short time, advertising the Society and its intentions. Membership is growing, and many more clubs are becoming aware of the history and significance of their Thompson designed courses because of the Society's efforts.
Sadly, there are Thompson courses that have already been ruined to the point that pure restoration is impossible. But there are still others that have jealously been preserved. I'd like to see the Thompson Society become an organization that can assist in determining where courses fall into that spectrum – kind of like the Donald Ross Society has done in the United States. There are too many competing architects out there trying to sell their own take on restoration. With any luck, a comprehensive Thompson archive, administered by the Society, will put an end to that game and save at least a few Thompson originals from ill-advised alterations in the future.
GTI: WOLF CREEK GOLF RESORT, ANOTHER OF CANADA'S BEST COURSES, IS INCLUDED IN OUR CURRENT FEATURE ON ALBERTA GOLF. YOU'RE CURRENTLY WORKING ON ANOTHER PROJECT IN ALBERTA WITH WOLF CREEK'S DESIGNER, ROD WHITMAN. CAN YOU TELL US A BIT ABOUT THAT?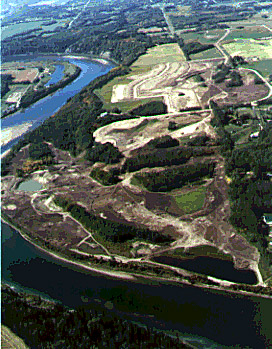 Blackhawk from the air
JM: We're in the process of finishing a new 18-hole course for Blackhawk Golf Club in Edmonton. It's going to be a public access daily fee course, scheduled to open for play early in 2003.
Blackhawk's quite a bit different than Wolf Creek, but equally good – maybe even a bit better. It occupies a very unique property in the North Saskatchewan River valley, about 30 minutes or so by car from downtown. The par 3 12th and long par 4s at the 13th and 17th holes actually play along the banks of the river in a beautiful setting.
There are a total of twelve holes in the river valley section of the property, and some awesome looking bluffs on the other side of the river itself. So the course is very secluded. There's no threat of any future peripheral developments infringing on it, which in itself makes Blackhawk somewhat unique to other similar golf course developments these days.
There are sporadic groves of trees through the property, and some nice native vegetation that have been preserved and should provide the course with a rather mature feeling right off the bat.
Rod's routing is really good too. It takes full advantage of the best natural attributes of the site. There's good variety in the types of holes out there, and a varied and interesting set of greens as well.
Again, a solid routing with eighteen interesting and diverse greens will always guarantee a decent course. If you happen to have a better than average site, like Blackhawk, then the course is likely to be that much better. So I'm confident it's going to turn out to be pretty good.